An Interview with Stevie B, Mia Mind Music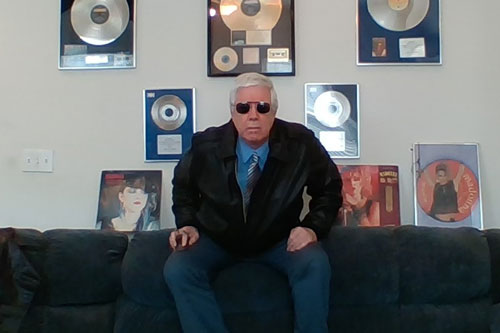 Tell us a bit about the career path that led to where you are now.
At fifteen, I dropped out of high school, got a part in a TV soap opera for about a year (until they killed off my character in a motorcycle accident), then went on a European tour with Richie Havens (remember him from Woodstock?), got signed as a recording artist to Decca Records when I was 16 and worked on side with them as a talent scout and as an in-house composer with Chappell publishing, got dropped so took the GED and attended NYC's Hunter College where through internships I worked with Benny Goodman, Stéphane Grappelli, Bucky Pizzarelli, Cab Calloway, August Darnell (aka Kid Creole) and ultimately wound up at the Polygram Music Group interning for Stephan Pritchitt, who was a great mentor and eventually one of my Mia Mind Music business partners, then over the years produced records for weird people like Madonna, and held the position known as The Resident Bastard running the day-to-day operations of Mia Mind Music for the past 35 years.
Why does college/community radio matter in today's fragmented environment?
Non-commercial radio levels the playing field for new artists, most who possess more talent than they have major label backing. The broad programming formats provided at most non-commercial stations, as well as their freedom of not having to answer to advertisers and stockholders, maybe just allows them to experiment more freely and push the artistic envelope further. So many acts, such as the Red Hot Chili Peppers, owe their careers to non-comm. Commercial radio is more narrowly formatted and is no longer concerned with artistic development as they once were in the past. They're now focused only on artists who have already built a large following (usually through the backing of major label resources) and incorporating that following as a method of increasing the station's audience and market share.
What is your favorite experience you've had in your career? Perhaps a musical idol you got to meet? A festival you were able to attend? A project you were involved with promoting?
Having Benny Goodman throw a plate of sandwiches at my head because he didn't like how they were arranged and Stéphane Grappelli taking me aside to tell me not to worry about what Benny just did, then sharing a secret: Benny was in the final stages of cancer and was in constant pain, which helped me to understand his often erratic behavior. Richie Havens teaching me open tunings for the guitar. Madonna sending a Christmas card which simply said "All I Want For Xmas Is A Chainsaw".
What band/artist outside the realm of college/community radio would people be surprised to hear you love?
Beside the ones I've already mentioned I'm a sucker for Bach.
What job do you think you would you be doing if you weren't a promoter?
Since I wasted several years of my life earning a degree in clinical psychology I'd have to be crazy to try my hand at anything else other than as a practicing shrink. But if I had instead done that for a living, I'd probably be wearing a straightjacket and bouncing off the padded walls of Bellevue Hospital today.
What destination would you most like to visit and why?
I now work and love living in Hoboken, NJ, which I've nicknamed as "Hobohemia". I've traveled so much of the world during my touring career, which averaged about 300 days a year on the road, so there are few places I haven't already seen. Hobohemia has the combined vibe of an artist community, like Greenwich Village circa 1960s, and Mayberry, the setting of a fictional small town in an old TV series called The Andy Griffith Show. When people ask where I'd like to go for a vacation I always reply Hobohemia. Maybe one day I'll even be inspired to write an epic anthem about my little town titled "Hobohemian Rhapsody".
You just won a million dollars. What are you going to do with it?
Give it away to Wikipedia, my local library, and our local shelter. These are the 3 things I've constantly found fulfillment in, and use of, during my lifetime. I find no joy in receiving anything that I haven't earned from the sweat of my own labor, which is why I don't gamble for pleasure. It's just the way my brain's wired. Maybe I really am ready for that straightjacket.
What is/are your current favorite TV obsession(s)? What was your favorite movie of 2018 so far?
Netflix's "Black Mirror", FX's "American Horror Story" and CW's "iZombie" are my jams for TV. So far I really don't have a favorite 2018 movie, but we still have 5 more months in the year to go, so who knows?
When friends come to town, what is your favorite restaurant you take them to?
Without a doubt it would be Court Street. It's gastronomically pleasing to the palate, aesthetically pleasing to the eye and the staff's the coolest of the cool. Hey, it's Court Street, damn it!
You're stranded on a desert island. What five well known people (dead or alive) would you like to have there with you?
Without a doubt I'd like Dr. Linus Pauling, Dr. Martin Luther King Jr., Dr. Sigmund Freud, Dr. Seuss, and Dr. Dolittle there with me. One to take care of my body, the second for my soul, the other for my mind, another for my entertainment, and the last one to talk to any animals on the island with me. My philosophy is that if you're stranded on an island then you can't have too many doctors to care for you. Alright, I've got to end it here because those little men in the white suits with the butterfly nets are here to measure me for that straightjacket…
Read this interview on the NACC web site